opticalCON Quad Chassis Receptacle
Neutrik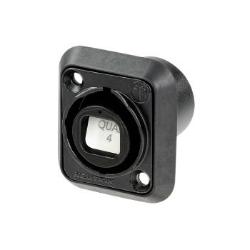 The chassis connector acts as a "feed-through" allowing simplified installations by connecting four conventional LCs on the rear. It is built in the standard D size shell and features an automatic sealing cover for maximum dust and dirt protection and a Push-Pull locking mechanism for safe connection. Colored sealings are included to identify the fiber mode.
Features & Benefits:
Rugged 4-channel Point-to-Point multichannel routing solution. Laser protected metal shutter seals dust proof with two-component rubber gasket. Water resistant according to IP65 (mated), rubber sealing gasket. Accommodates standard LC connectors on the rear for cost effective and simple installations. Color coding to identify fiber mode.