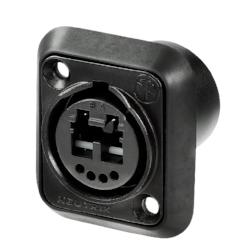 The NO2-4FDW-A chassis connector acts as a "feed-through" allowing simplified installations by connecting a conventional LC-Duplex on the rear. It is built in the standard D size shell and features an automatic sealing cover for maximum dust and dirt protection and a Push-Pull locking mechanism for safe connection. Colored sealing gaskets are included to identify the fiber mode.
Features & Benefits:
Suggested OEM equipment connector due to LC front compatibility, automatic sealing shutter with silicone gasket protects optical connection from dust and dirt, Accommodates standard LC connectors on the rear for simple installation, Connection on the front side either by rugged opticalCON or standard LC connector, low cost of the chassis connector makes it a viable alternative to traditional connectors in fixed installations, Water resistant according to IP65 ingress protection in mated condition .Color coded rubber sealing to identify fiber mode: Multimode – black. Single mode PC – blue. Single mode APC - green.
Technical Information:
Product
Gender: female
Electrical
Contact resistance: < 7 mΩ
Dielectric strength: 1,5 kVdc
Insulation resistance: > 2 GΩ (initial)
Rated current per contact: 6 A
Rated voltage: < 50 V (1)
Mechanical
Insertion force: < 45 N
Withdrawal force: < 45 N
Lifetime> 5000 mating cycles
Locking force1000 N
Locking device Push-Pull
Mounting direction Front mounting
Chassis shape D
Material
Contacts Bronze (CuSn6)
Insert Polyamide (PA 6, PBT 30 % GR, PBT 50 % GR)
Shell Zinc diecast (ZnAl4Cu1)
Shell plating Black chromium
Split sleeve ceramics
Environmental
Temperature range: -40 °C to +75 °C
Optical
Optical connector LC-Duplex Feedthrough
Product specific
(1) Not compatible to the SMPTE standard, suitable for indoor studio applications acc. IEC 60664-1 (pollution degree 1, over voltage category 1)
Nemal manufactures a complete line of OpticalCON adapters including DUO, QUAD, and SMPTE versions. The adapters are available in plug to fanout, box to fanout, or plug to box and terminated in ST, SC, or LC connectors.