BNC Crimp Plug 50 Ohm -For LMRÂ
RapidTables ®
400, Belden 9913, Nemal 1180 (Eq Amphenol 112563) Nemal Electronics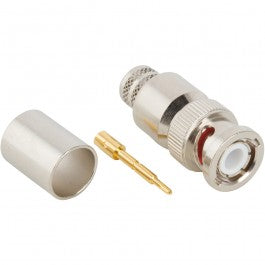 NE862 is a 3-piece 50 ohm BNC Crimp Plug for LMRÂ

RapidTables ®

 

400, Belden 9913, Belden 9914, and Nemal 1180.

Suggested crimp tool is the Nemal CT3800 and it is also compatible with standard Kings and Amphenol tooling.

Nemal BNCs offer high performance and reliability throughout the frequency range, and are suitable for use in a wide range of environmental conditions. We suggest using Nemal cable boots or other protective options for outdoor applications. Installation time using standard tooling is less than 1 minute.

Gender                                Plug

Orientation                          Straight

Termination Style                 Cable - Crimp

Impedance (Ohms)              50

Body Finish                         Nickel

Body Material                     Brass

Contact Finish                     Gold

Contact Material                 Brass

Contact Termination Style    Crimp

Insulator Material            PTFE

Cable Type                      Belden 9913, Nemal 1180, Belden 9914, LMR-400

Crimp Tool                      CT3800

Coupling Mechanism      Bayonet

Max Frequency (GHz)      4




LMR is a registered trademark of Times Microwave Systems.