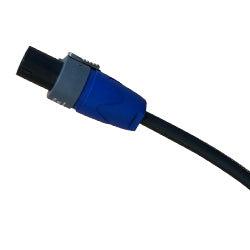 Assemblies using Nemal Audio-flex 2-Conductor 14awg cable (12 Awg also available). Extremely rugged 105C TPE jacket, rated for wet environments, sunlight resistant, and temperatures down to -55C. Oxygen Free high strand bare copper for optimum audio performance. We manufacture SpeakON assemblies in any custom length, labeled to your specifications.
The industry-standard for loudspeaker connections offer extremely reliable and robust cable connectors with a reliable locking system. They feature solid contacts with screw-type terminals including a stranded wire protection which offer also solder termination.
Features & Benefits:
Current rating 40 A continuous, 50 A audio signal with 50% duty cycle. Only 3 parts, easy to assemble. High impact materials – long-lasting and reliable. Easy and extremely precise locking system "Quick Lock". 1 piece strain relief, chuck for 6 to 10 mm cable O.D. Improved grip on latch. Mates with 4-pole chassis connector as well and makes contact with +1/-.