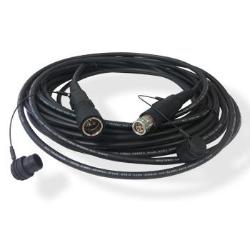 The FOU Series polyurethane jacketed SMPTE-311 Hybrid Fiber-Copper Camera Cable Assemblies are the industry choice for reliability and durability in extreme environments. These assemblies feature Nemal FOCC24U and LEMO FUW-PUW male to female connectors with full protective rubber boot and cap. The cables are ideal for use in mobile broadcast and other harsh environments . Nemal SMPTE cable assemblies are available in standard lengths from 1 to 500 meters, Nemal SMPTE cable assemblies are compatible with Sony, Panasonic, Ikegami, JVC, Grass Valley, Hitachi HDTV cameras using the LEMO SMPTE connector.
Available either in bulk or terminated in standard or custom lengths from 1-1640 ft with LEMO FUW-PUW or other any combination of hybrid or discrete connectors.
Nemal manufactures 9 different types of SMPTE HDTV camera cable including
FOCC24R (UL) Riser
FOCC24S7 (7mm version)
FOCC24D (12mm)
FOCC612A (Stadium-3-in-1)
FOCC816 (Stadium-4-in-1)
FOCC24S5 (5mm for Steadicam)
We also offer complete SMPTE camera interconnect systems including BSP panels, studio wall boxes, patching systems, installation support, and system design.