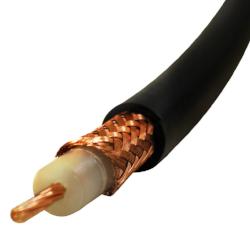 Available in bulk standard or custom cut lengths from 1-1000 ft or terminated to order with Type N, DIN, LC, UHF (PL259 interface), HN or other RF connector types.
RG-218/U coaxial cable is a popular choice for high power HF 50 Ohm applications and features a solid copper center conductor, solid polyethylene dielectric, a 95% bare copper braid, and a non-contaminating PVC (NCV) jacket as per MIL-C-17. It offers excellent crush resistance and is suitable for direct burial and for high power applications

Center Conductor: .195" Solid Bare Copper.
Outer Diameter: 0.870"
Weight per 1000 Ft:  460 Lbs
Temperature Range: -40C to +80C
Please see the Nemal General Catalog for attenuation and power rating information.