Rean RB75BDD6 BNC Crimp Plug 75 Ohm 3Ghz-RG59 Mini Type 23 Awg (1855A/1191)
Nemal Electronics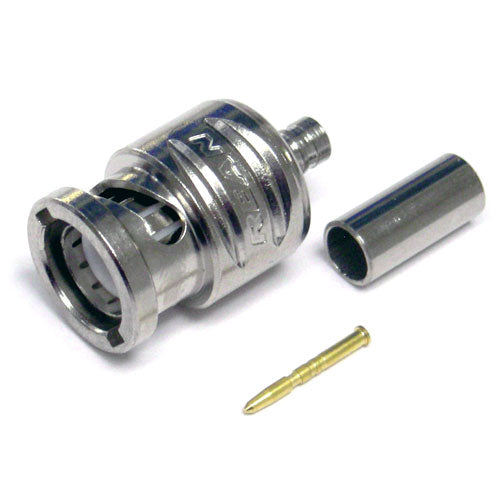 s 3-Piece crimp 75 Ohm BNC for 3G-HD/SDI applications using mini RG59HD cables (1191/Belden 1855A).
Suggested crimp tool is the Neutrik HX-R-BNC with appropriate die

Rean BNCs offer high performance and reliability throughout the frequency range, and are suitable for use in a wide range of environmental conditions. We suggest using Nemal cable boots or other protective options for outdoor applications. Installation time using standard tooling is less than 1 minute.
Specifications:
Electrical

75Ω impedance
Contact resistance
>5GΩ insulation resistance
>1.5kVDC

 

dielectric strength
500V rated voltage
Return loss

>32dB up to 1GHz
>30dB up to 2GHz
>26dB up to 3GHz

Environmental

-30°C to +85°C operating temperature range
IEC 60169-8, MIL 348A standard compliance
Contact crimpability complies with IEC60803 and IEC 60352-2
Mechanical

>1000 mating cycles lifetime
>30N center cable retention
≤25N insertion force
Bayonet locking device
Jacket crimping cable anchoring

Material

CuZn35Pb2 center contact
0.1µm Au center contact plating
PTFE isolator
ZnAl4Cu1, Ni-plated housing
CuSn6, Ni-plated ground contact