Media Converter CAVU-S1 (Mini)-1 Channel HD/SDI (3G)TX/RX Pair With Signal Indicator
Nemal Electronics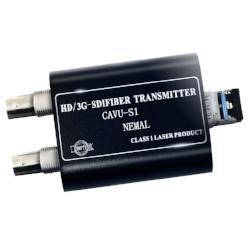 CAVU-S1 is a high performance cost effective solution to single channel HD video transport. It consists of a set of fiber optic converters (TX) and (RX), with individual power supplies, designed for long-distance transmission of a single 3G/HD-SDI signal with no delay and negligible loss. CAVU-S1 is also available in multi-channel versions, mounted in a reeler as part of a complete HD transmission system.

Features:
Easily passes testing for extremely harsh environments.
SD, HD, 3G automatic input detection, support 270Mbit / s - 1.48Gbit / s - 3Gbit / s rate, support SMPTE-424M 3Gbps HD-SDI, SMPTE-292M HD-SDI, SMPTE-259M SDI serial digital video signals and DVB-ASI signals
Uncompressed transmission without delay with negligible loss;
More than 10KM transmission distance (up to a maximum 80KM)
Wide temperature range, low power consumption
ST Caps for connector protection (with retention chain)

Power supply

"A" Mount in between camera and battery. Up to 15 hours operation with typical standby intervals. DC input (4-pin XLR) for external power.