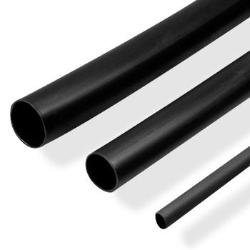 Thin wall adhesive lined cross-linked polyolefin. Adhesive lined heat shrink tubing with environmental sealing capability ideal for a variety of applications including general purpose automotive and marine wire harness bundles, industrial splices, breakouts and connector to cable transition.
Features and Benefits:
3:1 shrink ratio, Superior sealing against water, moisture or other contaminants, High shrink ratio allows for coverage of irregularly shaped connectors and components, Inner adhesive bonds to plastics, rubber, neoprene, steel and polyethylene, Continuous operating temperature: -55°C to 110°C, Shrink temperature: 90°.
Standards:
Passes Automotive industry flammability test (FMVSS 302). Typical Applications-Environmental sealing and strain relief of connectors and terminals, Moisture sealing and electrical insulation of simple in-line splices, Abrasion resistance for tubes and pipes, Repair of damaged wire harnesses.