Digital Audio Cable-AES/EBU DMX 1 Pair 24Awg Stranded-Braided Shield
Nemal Electronics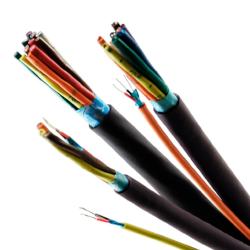 Available in bulk custom cut lengths from 1-2000ft or terminated with Neutrik 3-pin or 5-pin XLR connectors.
2402DS is Nemal's standard DMX digital audio cable for use in fixed installations and other indoor applications. It consists of 2 Pairs of 24 awg tinned copper conductors with aluminum/mylar shield, a 24 awg tinned copper drain wire, and PVC jacket. 2402DS is available in 10 colors.
Construction:
Conductor:

AWG: 24 AWG 19/36 bare copper
Insulation: HD-Polyethylene
Color Code: Black, white, red, green

Final Assembly: 2 pairs cabled together

Fillers: Cotton
Shield: Tinned Copper Braid; 95% Nom. Coverage
Jacket: Flexible PVC Jacket
Electrical Specifications:
Conductor DCR: 25.8 Ohms/Kft Nom (84.6 Ohm/Km)
Shield DCR: 4.3 Ohms/Kft Nom. (14.1 Ohm/Km)
Capacitance: 15.2pf/ft (49.6 Pf/Mtr) Nom. (conductor to conductor)
Voltage Rating: 300V Max
Impedance: 110.0 Ohms Nom.
Physical Properties:
Temperature Rating: -20C to +60C
Cable Weight: 
43.0 Lbs/Kft Nom. (64.1 Kg/Km)
Compliance:
 Lead Free, RoHS Compliance