Broadcast Tactical 6 Fiber Single-mode Polyurethane Jacket terminated with LC connectors
Nemal Electronics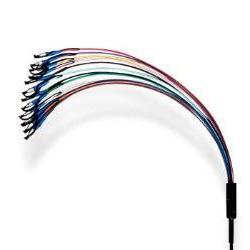 TERMINATED WITH LC CONNECTORS
Nemal TAC6B is the 6-fiber single-mode version in the Nemal family of rugged broadcast tactical fiber optic cables. Featuring Corning bend insensitive fibers, aramid strength members, and a heavy duty polyurethane jacket, TAC6B is suitable for use in mobile broadcast and other harsh environment applications. Nemal tactical fiber cables are also available in versions from 1-12 fiber, in single-mode, OM3, or OM4. Nemal offers complete tactical fiber systems including media converters and cable reelers, terminated to your specifications, in any length.
1, 2, 4, 6, 8 and 12 Fiber Tactical Cable
Nemal fiber optic tactical cable consists of a rugged, flexible polyurethane outer jacket and either two or four 900um tight-buffered fibers surrounded by aramid yarn and an aramid ripcord. The jacket is pressure extruded over the strength member which allows the pulling device to be attached directly to the cableâ€
RapidTables ™
s outer jacket. This will transfer the pulling force directly to the strength members with no slippage. The dielectric cable construction requires no grounding and its smaller diameter and low bend radius allow easy installation in space-constrained areas. In addition, the Single-mode and 50um OM3 versions of the cable utilize advanced bend insensitive fibers. This also allows the fan-outs to benefit from a smaller diameter bend radius.