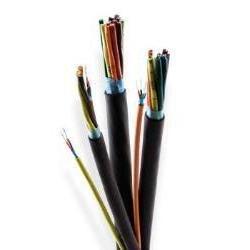 Available in any bulk custom length from 1-2000 ft. or terminated with Neutrik XLR connectors and/or stage box
Flexible analog audio snake cable, 54 individually shielded and jacketed 24awg pair with 24awg tinned copper drain wire. Black TPR jacket
Product Specification

Description: Multi-Pair 24 AWG Stranded Tinned Copper, Polyethylene Insulated, Each pair individually shielded and jacketed; overall fabric tape and Flexible TPR.
Construction:
Pairs: Two insulated conductors shielded with foil, drain wire and PVC jacket.
Conductor: 24 AWG (7/32) Tinned Copper
Insulation: HD-Polyethylene
Color Code: Black, Red
Drain Wire: 24 AWG (7/32) Tinned Copper
Shield: Aluminum/Polyester tape; 100% shield
Jacket: PVC; Color: White Alpha Numeric Printed  OD: .116" Nom. (2.95mm)
Jacket: Flexible TPR; Color: Black Satin finish; (See Table -I - for cable diameters and detailed info)
Electrical Characteristics:
Conductor DCR: 25.8 Ohms/Kft Nom (84.6 Ohm/Km)
Mutual Capacitance: 30 PF/FT Nom (98.4 Pf/m) (Cond - Cond) 54 PF/FT Nom (177.12 Pf/m) (Cond - Shield)
Impedance: 50 Ohms Nom.
Velocity of Propagation: 66 % Nom.
Temp. and Voltage rating: -20C to +75C / 300 Volt Max.
OD: 1.25" (31mm)
Weight: 765 Lbs/1000ft (1140kg/km)
Compliance: Lead Free, RoHS Compliance