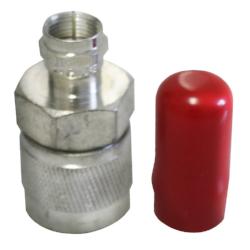 Part Number NE911-75 is an inline inter-series adapter from a Type F plug to Type N plug. This adapter is suitable for use with L-Band and other equipment configured with Type N connectors. Nemal 75 Ohm adapters offer a high performance, convenient solution to interconnecting different connector types. They are available in any combination of connector type and gender.
75 Ohm BNC Adapters and Terminations
Part Description: Type N Plug-F Plug
Dimensions: 1.50 (38.1mm), 0.47 (11.9mm)
Mechanical
Durability: 500 Cycles Min Center Contact
Center Contact Retention: 6 lbs. Minimum
Coupling Mechanism: 100 lbs. Minimum
Force to Engage/Disengage: Torque 2.5 in-lbs. Max.
Longitudinal force 3.0 lbs. Max.
Interface Dimension: MIL-C-39012 except 75 Ohms
Electrical
Characteristic Impedance: 75 Ohms
Voltage Rating: 500 Volts RMS
Return Loss: 
Less than -36 dB to 1 GHz; 
-25 dB to 2 GHz; 
-23 dB to 3 GHz; 
-20 dB to 5 GHz
Contact Resistance: 
Center Contact .0014 Ohms 
Outer Contact .002 Ohms
Insulation Resistance: 5000 megohms
Environmental
Thermal Shock: -65°C to +165°C
Moisture Resistance: 0 to 95%: MIL-STD-202 Method 106
Corrosion (Salt Spray): MIL-STD-202 Method 101Test Condition B
Flammability: UL 94-VO Rated(Center Conductor Insulator)
Vibration: MIL-STD-202 Method 204Test Condition B
Solvent Resistance: MIL-STD-202 Method 215
Finishes
Body/Bayonet: Nickel
Center Conductor: 50 millionths inch gold plating over copper plate