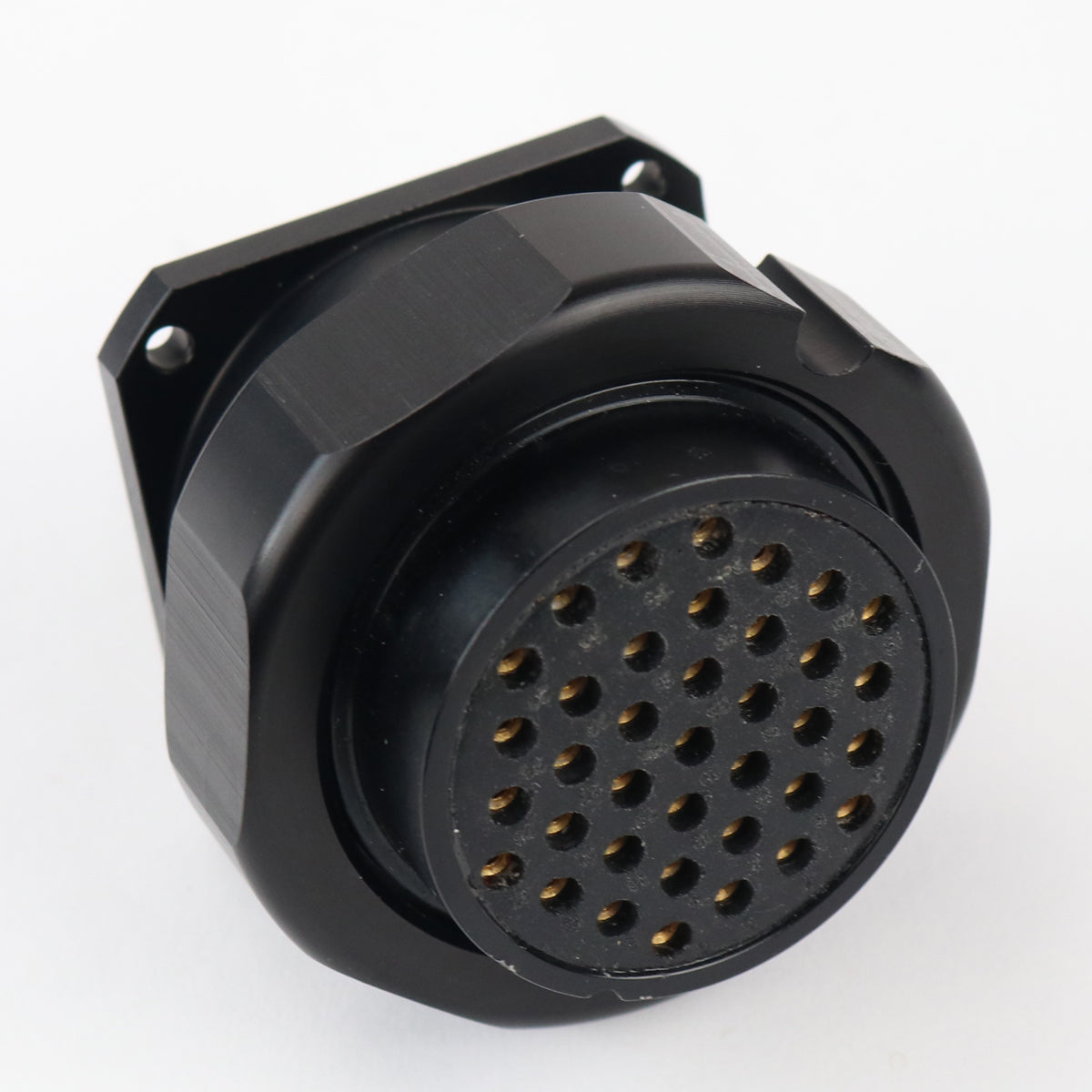 The Nemal NE3730FP is the female panel mount receptacle in the DT-12 Series of 12-channel audio connectors. It is also available with an optional protective steel cap. Nemal DT-12 Connectors are the industry choice for use in mobile broadcast and rugged field applications.
Nemal's improved version of the broadcast industry standard FK37 (DT12) type multi-pin connector family, available with an optional steel insert (male). The DT-12 connector is suitable for use in both indoor as well as hostile outdoor environments, and features an extremely rugged machined body, mil spec black plating, and a completely weatherproof insert. The complete DT-12 family includes both cable and panel mount versions with either crimp or solder contacts. Nemal offers a large selection of strain relief options to accommodate various cable diameters and applications. Accessories include dust caps, fan-outs, and break out boxes to XLR connectors. Typical applications include termination of 12-pair audio molt cable, 14 coax video molt, or up to 37-conductor control cable. Additional features include a positive lock insert system to prevent conductor breakage during interconnection, secure attachment of cap to connector, standard thread strain relief, and complete compatibility with existing ITT Canon type designs. The connectors are available from stock; either individually,or terminated on cable.
FEATURES:
Optional Steel insert (male) for superior crush resistance -Extremely rugged machined body -Low Profile, reduced weight version -Weatherproof insert -Patented Set Screw design prevents insert rotation -Wire retention on dust caps -Ease of Termination -Wide variety of Strain Relief options -Completely compatible with existing designs.
Technical Specifications
Solder Contacts: 16 AWG Max Wire Size, Machined Copper
Plating: Gold 3 micron iaw Mil-G 45204
Back Shell: Hard Anodized Aluminum
Black Shell: Stainless Steel (Male), Hard Anodized (Female)
Insulator: Neoprene
Current Rating: 13 Amperes
Voltage Rating: 700 volts DC, 500 volts AC
Test Voltage: 1500 volts AC