NA2MPMM Audio Adapter XLR 3-Pin Male to RCA Plug
Neutrik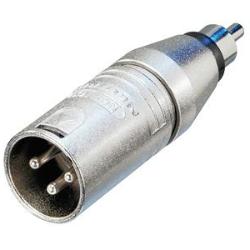 The heavy duty professional audio adapter provides an easy option for adapting between series. These adapters are available in a wide range of configurations between almost all audio connector types.
Features and Benefits:
3 pole XLR male – RCA / phono plug
Wired according to IEC 268-12:
Pin 2: signal
Pin 1 and 3: connected to ground
Nemal manufactures audio cable assemblies and patch cords in both standard and custom lengths using Neutrik 1/4" connectors. Assemblies available in a wide range of colors and configurations.